The Albanian railways do not cover the whole territory of the country, that is why some towns of the country are not that easy to be reached. The Albanian Railways took over the carriages written off in Italy, so they renewed the rolling stock completely. The trip in such carriages will be nothing usual for the tourists from Russia and Ukraine, it will remind you of your trips in local trains. You'd better to visit WC before your trip because the most wc's are broken, closed or are in a bad condition.
The speed of your trip will be about 40 km/h, that is not the speed of a TGV. But be ready sometimes there are no windows in the trains, that is the way it is for the Albanian railways. The main railway is stretches from the North to the South via Shkoder – Durres – Vlora, there are branch lines lying not far from the lake of Ohrid, connected to Tirana and Pogrdec.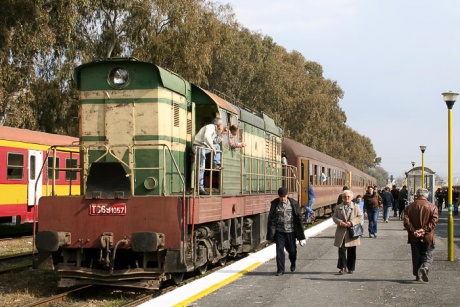 Passenger trains run between the towns several times a day, those are the following directions "Tirana - Durres", "Tirana - Shkoder" and "Tirana – Elbasan – Pogradec"
There is only one railway in the country which is running out of the country, this one is connecting Albania with Montenegro. This line connects the Albanian town of Shkoder with the Montenegrin capital, Podgorica. There are no passenger trains between the towns, only freight trains go between them.